Many people don't like the dentist. Perhaps they had a bad experience as a child, or they just don't particularly like the entire dental experience. Whatever the case may be, seeing a dentist on a regular basis is crucial for your oral health.
Love to Smile is a dental office with three locations in Kansas: Overland Park, Peculiar, and Lenexa. Our mission is to offer you the best dental services so that you can have beautiful functioning teeth for years to come. Our friendly staff can answer any questions you may have. Below, we'll go over what to expect at your next dental checkup. Contact us for your next dental appointment today!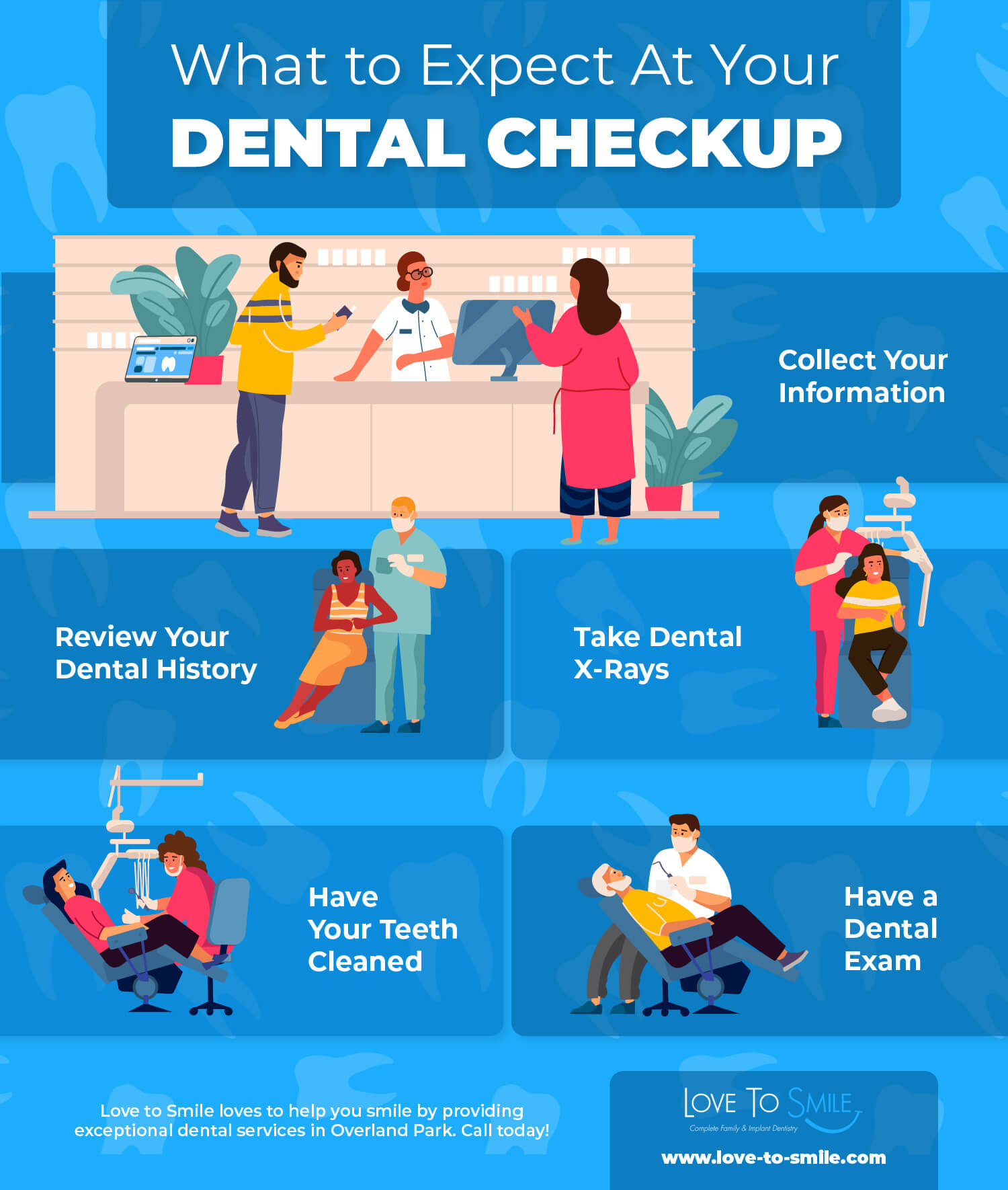 WHAT TO EXPECT AT YOUR DENTAL CHECKUP
Collect Information
When you contact us for a dental appointment, we'll collect some basic information, such as your name, address, age, and more. Here, we'll ask about your dental insurance. If you have dental insurance, we can tell you if we are a preferred provider, or in-network, which can save you money in the long run. Even if you are out-of-network, the cost difference is not all that substantial. Our friendly dental staff can help answer any questions you may have related to dental insurance. We'll let you know how long to expect so you can plan accordingly.
Dental History
Once you arrive at our dental office either at Overland Park, Peculiar, or Lenexa, you will fill out more information about your dental history (this may be done ahead of time, too). You'll answer questions about any medications you may be on, if you have a medical condition, such as diabetes or arthritis, if you are pregnant, and if you are experiencing any dental problems that brought you in. All of this information helps us if you were to need a prescription from a dental procedure in the future. Plus, we'll know if you gums start bleeding during your dental exam and you're pregnant (this is quite common), that there is nothing to worry about.
Dental X-Rays
Before the dental hygienist begins cleaning your teeth, we'll take some x-rays of your mouth. These dental x-rays allow us to see if there are any concerns about your teeth and your jaw that we can see below the gumline. You will usually bite down on a piece of plastic that has been specifically designed for x-raying the teeth. The x-ray machine is placed against your cheek, so you are exposed to a very minimal amount of radiation. These are especially important for children whose jaws are still growing and who are losing teeth. They allow us to ensure adult teeth are growing normally.
Teeth Cleaning
Many people don't enjoy the actual process of cleaning their teeth. After all, small instruments are placed in the mouth on an on-going basis for about 30 minutes. While we understand it's not the way most of us would choose to spend our time, it's a minimal investment to keep your teeth healthy and strong. First, the dental hygienist will scrape off any accumulated plaque or tartar on your teeth. This can make a scraping sound. Then they polish your teeth. Normally, you will have the choice of which flavor you want to use, such as mint or cinnamon. This will help smooth out your teeth so that plaque will have a more difficult time clinging to it. The dental hygienist will floss your teeth, your mouth will be rinsed, and you'll walk away with shiny teeth.
Dental Exam
The final step in a dental checkup is the dental exam. This is where the dentist will come in and examine your teeth. They will communicate with the dental hygienist if they see any area of concern. They will examine your dental x-rays for any warning signs of abnormalities. The dentist will check your jaw and jaw alignment, your gums for any sign of swelling, and they will be looking for any signs of oral cancer or tooth grinding. If you have fillings, they may check those as well for continued functionality. They may ask you about your brushing habits, too. The dental exam is a great opportunity to communicate any concerns you may have about your teeth to the dentist.
Finally, the dentist will explain the results of your dental exam and go over anything that they found, such as a cavity or a tooth that may need work done. The dentist will explain your next steps, too and answer any questions you may have. If you invest in regular dental checkups, most of the time your teeth will be  healthy, and no follow up is needed.
CHOOSE LOVE TO SMILE IN OVERLAND PARK TODAY
Love to Smile is a family dentistry practice with years of experience in helping patients have the best possible oral health. Our caring and compassionate team helps to ensure you are comfortable during your stay with us. We understand that you would rather be almost anywhere else than with us. We are privileged that you have chosen us as your trusted dental office of choice here in Overland Park, Peculiar, or Lenexa.
Our dental office offers a wide variety of dental services, in addition to dental checkups. These include dental implants, crowns and bridges, Invisalign, teeth whitening, cosmetic dentistry, sealants, and full-mouth restoration. We also work with area specialists if you need a referral for more specialized work.
Love to Smile loves to make you smile with healthy teeth and gums. Book your dental appointment today!