People often don't think too much about the care of their toothbrush. However, as something you use every day and that you rely on to ensure you have the best oral health and a stellar smile, you should ensure your toothbrush is well cared for. Here at Love to Smile, we help ensure all of our patients have the best oral health. Learn how to care for your toothbrush below, and schedule a dental appointment at our Overland Park, Peculiar, Lenexa, or mobile office today!
Don't Brush Your Teeth Too Hard
Not only can you wear away the enamel on your teeth and harm your gums when you brush too hard, but you will also wear out your toothbrush. Its bristles can become misshapen and, therefore, less effective at cleaning your teeth.
Rinse Your Toothbrush After Every Use
You should rinse your toothbrush after every use in order to keep it clean. This will help keep bacteria from growing on it, which could get back into your mouth the next time you brush.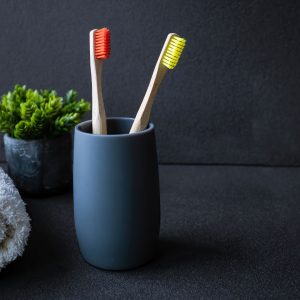 Store Your Toothbrush Upright
By storing your toothbrush upright, you'll help it to dry quickly. This ensures mold and bacteria don't begin to grow on your toothbrush. Also, don't store it above your toilet because bacteria enter the air every time you flush the toilet, which can then land on your toothbrush.
Replace Your Toothbrush or Toothbrush Head Every Three to Four Months
Most dentists recommend that you replace your toothbrush or toothbrush head if you have an electric toothbrush every three to four months. This is often the time when they begin to wear out. Plus, excess bacteria can build up on your toothbrush over time, so it's good to start fresh.
CALL LOVE TO SMILE TODAY
Love to Smile is a general dentist with convenient offices in Overland Park, Peculiar, and Lenexa, and a mobile dental office to better serve your dental needs. Schedule a dental appointment today!